SUSHILA SINGH – JOURNEY IN INK
written by Sukkum Chemjong Limbu 
Believing in the sacred power of the feminine, visual artist Sushila Singh creates an amalgamation of art from her experiences of motherhood, family and society. Sushila holds a master's degree in fine arts from Lalitkala Campus and has exhibited in multiple solos and group exhibitions, her first solo was in 2010, a pen and ink exhibition on an architectural theme. The visual artist continually explores new art forms such as ceramics and installations to give expression to her work.
At MoNA, Sushila Singh exhibited ceramics, drawings and installations in an exhibition titled 'Beautiful Chaos'. The highlight at this exhibition is a series of 16 drawings that show the process of the building of Rato Machhindranath in her signature pen and ink style. In this segment of WOW, the artist delves into aspects of her journey.
The moment you knew that you wanted to be an artist
My siblings used to shower me with gifts of Barbie dolls and clothes but these never intrigued me. But once when I received the gift of a colour palette of 36 water colours, my joy was visible to all. I still remember that used the colours so carefully, saving them to extend their life for as long as I could.
Tell us about your artwork and genres of interest.
My art genre is linework. I have explored different genres but I don't want to limit myself. I consider art genres as a medium. My children are grown up now and it is the perfect time for me to explore further and indulge in the world of art.
What is 'Beautiful Chaos'?
My exhibition at MoNA titled 'Beautiful Chaos' is connected directly with my audience and a platform for me to express what I feel. The curation by Rajan Sakya is beautiful. The exhibition is not limited to just painting and ceramic art but an open invitation to the viewers to participate. Every piece and installation works around the themes of womanhood, family, culture and society.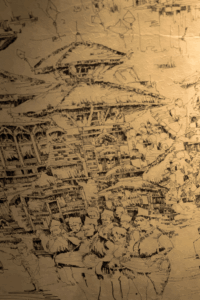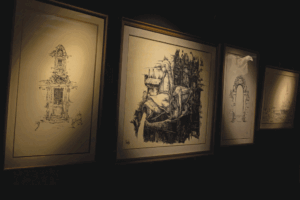 What about the Rato Machindranath series?
I want to depict the bond shared while making the chariots. The intricacy of design and people working together as a team holds great significance. Our culture, tradition and art are the representation of our country. But I fear we may slowly lose our identity.
For example, in my children's school, they teach them about Christmas, Halloween, and other Western festivals. I suggested to the teachers that they celebrate Nepal's culture and festivals in the similar way. Also, what amazes me is the pronunciation of 'Dashain.' The tonality of this word was Western which I didn't like at all. And yes, the story update:I didn't send my kid for Halloween.
Inspiration for your work
I am inspired by my surroundings and the people I meet but overall, I learn and unlearn things from my journey into motherhood. There are faults and errors sometimes, but they teach us bigger lessons all the time.
Your biggest cheerleader
My mother-in-law's support has transitioned me into a blooming flower. She used to tell me that I am a bud that should grow into a flower. She has taught me to stand and fight for what I believe in. Sometimes their advice might sound harsh, but the teaching and philosophy of older generations are meant for our wellbeing.
What roles does an artist have in society?
Artists weigh the heaviest responsibility in society. It is through art, a wider audience needs to be woken. For me, the shift starts from home, then neighborhood, after that the tole and simultaneously the society. If art can create an impact on people, I believe artists have the taste of success. Art is not only for sale, it has a deeper meaning and purpose in our society.
This article was published in  WOW – World of Women magazine on November 2022